Former star Penn State linebacker LaVar Arrington was angered by current Redskins RB Clinton Portis. Why? This is why...

LaVar

Arrington

was the man in D.C. when I arrived, and all of the sudden

LaVar

felt like it was competition, and he left D.C. He didn't want to be in D.C. any more. He gave back $15, 20 million to leave D.C., because he felt like he wasn't the main money guy, because everybody was getting [paid].

Laveranues

, myself,

Deion

was still getting paid, so he even had input. So I think it was just the wrong attitude, and I think for some of the beliefs that was funneled through, it was like whoever gets the money was the captain.



-- Clinton

Portis

, on NFL Network, February 6, 2010.
Huh? Well, as you could expect,
LaVar
did not take kindly to that unsubstantiated
diss
.
Arrington
had a rebuttal... and what a rebuttal it is. Here's a tiny portion...
I get a call from Renaldo Wynn, my family, my teammate. I get a call from Cornelius Griffin, my family, my teammate. And you know what they say to me? They say to me, if we don't get this stuff restructured, if you don't restructure it and this collective bargaining agreement doesn't get done, we will be out of jobs. We will lose our jobs, because of how high your cap number is, and all the people that they have tried to restructure to be able to be under this cap.

Ok. So if that's the situation, you're telling me these are my teammates, these are my soldiers, we go to war together, I humble myself for a great purpose and I called the Washington Redskins and I told them there would be one condition that I would restructure my contract. If you think I'm lying, you can call Joe Gibbs, you can call the Washington Redskins. Ask them. I told them the restructured contract of every single individual on the defensive unit, if those contracts are guaranteed as opposed to just being stuck somewhere in a drawer...you honor the contracts and I will restructure my deal....I was unselfish, and I was a leader, and I am proud of that to this day.

The Redskins did not guarantee those guys their contracts. They did not. So therefore I did not restructure my contract....It wasn't $15, $20 million that I threw away to get away from Clinton Portis. It was a $3 million bonus that I was due, that I took $1 million of it instead of 3. You keep the 3, you give me the 1, and let's part our ways

-- former Redskins (and PSU) linebacker LaVar Arrington, on The LaVar Arrington Show, February 8, 2010

Yes, folks. That
is
a small snippet of the "rant", though it was
more of a rebuttal
.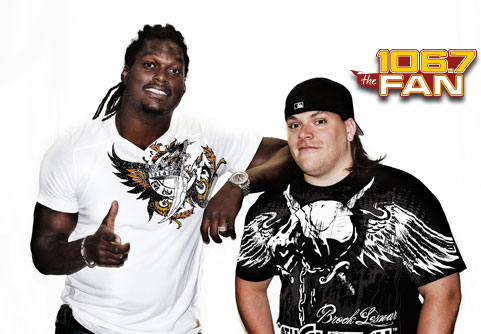 LaVar

Arrington

and Dukes for 106.7 "The Fan" in D.C.
So, after reading the full transcription (you can also download the entire thing here) I sent a tweet to
LaVar
(
@

LaVarArrington
), simply saying
"

You're rant was epic and spot on. Awesome."
And I got a response.
Simple. Nothing earth shattering, but awesome
nonetheless
.
LaVar
seriously tweeted to me. ME! And the great thing is I know he does it to a lot of people who mention him in a tweet. That's what's so great about
LaVar
- he LOVES HIS FANS, as he mentioned in the rebuttal. Wish there was a way we could get him back to Happy Valley.
Regardless
LaVar
, you're awesome.