Today will undoubtedly be the longest installment of Nittany Lions in the Pros. Penn State was blessed with a fresh stable of workhorse WRs in 2005, one that help Penn State declare "We Are Back". Now they are on their way to the NFL.


What's in store for Derrick Williams, Deon Butler, and Jordan Norwood now that their time in white and blue is up? How have past Penn State WRs fared as professionals? Check out the statistics below.
OVERVIEW
According to Pro Football Reference - where all of the Nittany Lions in the Pros data has come from - Penn State has sent 19 WRs to the NFL in the last 43 years. Looking at this more closely we, as Penn Stat fans, see this is misleading. At least Ethan Kilmer (safety) and Michael Robinson (running back) do not play WR in the NFL and possibly others on this list did not play there during their professional days. That drops us to 17. Lowering the number doesn't help Penn State's case. Once every three years a Penn State alum will make it to the NFL as a WR. Without a wider context with regards to other major universities it's hard to tell if that is good or not. What isn't good is that a PSU WR has made the All Pro 1st team just once. But wait... he made it as a kick returner! So NO All Pro performances by a Nittany Lion receiver EVER. The same goes for Pro Bowls! That is a little ridiculous. It seems that Penn State produces solid guys but never a true #1. This doesn't bode well for Williams, Butler, and Norwood. Of course, it only takes one to start rewriting statistical history. Penn State has had more success in the last 15 years than they did from 1966 through 1992. Eleven former PSU WRs made NFL rosters in that period and it resulted in a total of only eight seasons accrued as a starter in 49 seasons. Yuck. However, when O.J. McDuffie was taken in the 1st round by the Dolphins things improved.
NITTANY LION STANDOUT
Between 1993 and 2008, six Penn State WRs have been drafted/signed to NFL rosters and 16 years as a starter have added up over a total of 46 seasons. Nothing to brag about but certainly better than the first 2.5 decades. So who among this group of six is best? I'd argue it comes down to McDuffie, Joe Jurevicius, and
Bobby Engram
. McDuffie was a 1st round
choice of the Dolphins in 1993 and started in five of his eight seasons in the league. Jurevicius was a second round pick of the Giants in 1998 and has played 10 seasons (with a final 11th coming in 2009). He has only been a teams primary starter for three of those seasons but he has always been around winners. He went to the Super Bowl with the Giants (XXXV), Buccaneers (XXXVI), and Seahawks (XL). Last is Engram who is my choice for standout. Like McDuffie and Jurevicius, Engram was selected early in the draft (52nd pick by the Bears in 1996) and was set to be a top WR. He never reached the lofty goals the organization and fans had for him but was always a solid contributor on and off the field. Engram has played 13 season in the NFL (five with the Bears, the last eight with Seattle) and will be playing at least one more in 2009 (with the Chiefs). The former Penn State All American and Biletnikof winner is the most decorated former PSU WR in the NFL, for better or worse.
2009 DRAFT
Derrick Williams garnered all the praise and admiration coming out of high school but he may not
be the one NFL scouts see as having the best upside at the next level. There are rumblings that Deon Butler has performed well enough since the season ended that he could hear his name called before D-Will. How did the two of them plus Norwood perform during their four year stint in Happy Valley? Williams amassed 161 receptions for 1,743 yards and nine TDs in 46 career games. He returned 66 punts for 724 yards with three TDs and added another 50 returns, 1,095 yards, and two TDs on kickoffs. He rushed 117 times for 594 yards and eight TDs. Did you know that Williams had only one career 100+ yard receiving game (11/10/2007 @ Temple)? Williams will be drafted primarily as a speedy slot guy who can also return kicks. However, since he is a hard worker and high character guy he'll provide whatever team selects him great value.
How about Butler? While Williams became a jack-of-all-trades and more of an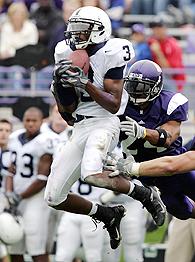 athlete than receiver, Butler was the QBs go-to guy. He played in all 51 of Penn State's games over the last four seasons and caught 179 passes for 2,771 yards and 22 TDs. He had six career 100+ yard receiving games and holds the Penn State record for receiving yards in a game (216 vs Northwestern, 9/30/2006). Pretty good idea shifting him from DB to WR prior to his redshirt freshman season, no? Good job coaching staff! Butler has tremendous upside and is actually faster and a better catcher than the more heralded Williams. Butler could sneak into the end of round two. Definitely expect to hear his name called early on day two.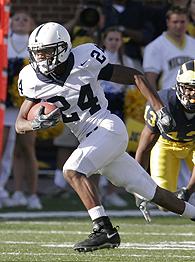 Last, but certainly not least, is Jordan Norwood. Norwood played in 48 of the last 51 games, missing only the 2005 opener versus South Florida as a freshman and the Illinois and Purdue games in 2008 due to injury. He accumulated 158 catches for 2,015 yards, and 13 TDs. Yep, more receiving yards and TDs than Williams. He also returned two punts for 23 yards. Norwood actually appeared to be the most sure-handed WR of the three. He had hands like glue and didn't fear going over the middle. That tenacity and spirit could help him latch on to a slot role like Wes Welker and Davone Bess. Again, he could be a late round or undrafted gem. WRs are supposed to catch, right? He does that. Well.
So what are the chances of all three being drafted in a month? I'd say about 65%. Butler and Williams are a lock; look for them to go in rounds two or three. Norwood could sneak his way into the late sixth or seventh round. They each had respectable Pro Day workouts a few weeks ago. All will make NFL rosters for training camp.
All three compare favorably to McDuffie, Jurevicius, and Engram. I'd say that's a compliment. However, we are looking for the first great PSU WR in the NFL. Will we get it? I have to say probably not. This senior trio was phenomenal at Penn State but I have a tough time believing any of the three will become more than a complementary or role playing WR. But ya never know, right?