The penultimate installment in my Nittany Lions in the Pros feature focuses on the running back position. It is a glamor position; one that is always scrutinized yet carries a certain mythos about it. RBs are often featured and held in high regard at both the college and professional level. Their ability to pound between the tackles, pick up first downs, and occasionally score a long TD are all welcomed additions to a teams game plan - and they're fun to watch.

Like the linebacker position, the running back position has its fair shares of Saturday legends at Penn State. Below is a list of those weekend warriors that made the jump to the next competition level: the NFL. The list is rather long and shows a bit more promise than some of the more recent positions profiled.


OVERVIEW

Over the last 43 NFL seasons 31 former Penn State
RBs
have taken the field in the NFL and those players have accumulated 175 seasons of experience, about 6 seasons/player. On average a former
Nittany
Lion will start for only 2 of their 6 seasons in the league. Luckily a few players pick up the slack, as usually is the case. In the last four decades
PSU
RBs
have been selected to 25 Pro Bowls and have been named to the All Pro First Team seven times. The All Pro designations are split amongst three players while the Pro Bowls are more evenly distributed. Six Penn State alums have made it to the Pro Bowl as a featured back. Unfortunately there have been 10 Penn
Staters
selected in round one. I say "unfortunately" because, usually, they failed to live up to their hype. Heisman winner John
Cappelletti
, 1995 #1 overall pick Ki-Jana Carter, D.J. Dozier, Curtis
Enis
, Booker Moore, and Blair Thomas are all former
Nittany
Lion backs taken in round one that never made the Pro Bowl. Fortunately for our track record there were four that made an impact: Curt Warner, Larry Johnson, Franco Harris, and Lenny Moore.



NITTANY

LION STANDOUT
This one is easy though it probably isn't the man many would expect. While Franco Harris is in the Pro Football Hall of Fame and Larry Johnson has had his share of success (when he isn't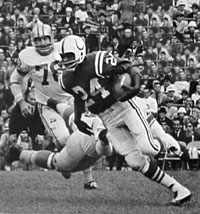 injured or in trouble), the former
PSU
player who made the biggest impact in the NFL is none other than Mr.
Lenny Moore
. Moore actually barely makes the cut because much of his career took place
before
the Super Bowl (or
AFL
-NFL Championship Game as it was originally called). Moore spent his entire 12 year career with the Baltimore Colts, amassing 1,069 rushing attempts for 5,174 yards (4.8 yards/carry) and 63
TDs
. He made the Pro Bowl as a rookie in 1956 and became a First Team All Pro in 1958, the first of four straight years he was given the honor. Overall he totaled five First team All Pro selections and seven Pro Bowl berths. He actually ranks 13
th
on the All-Time Career Total TD list with 113, one in front of Shaun Alexander and three behind Hall of
Famer
John
Riggins
. Moore himself was elected to the Pro Football Hall of Fame in 1975. He won two NFL Championships (1958 & 1959) and appeared in two more (1964 & 1965). Sorry, Franco, but Moore is my choice as
Nittany
Lion Standout Running Back.
2009 DRAFT
No former
PSU
players will be entering this years draft as a running back.
NEXT WEEK:
Quarterbacks take center stage in the final installment for
Nittany
Lions in the Pros. Is Kerry Collins the most decorated Penn State signal caller?
For more information on running backs and the NFL draft, check out my recent
draft trends and averages
for the position.